Kitchen:
In the rooms of the B&B there is a kitchen, for common use, available to all customers.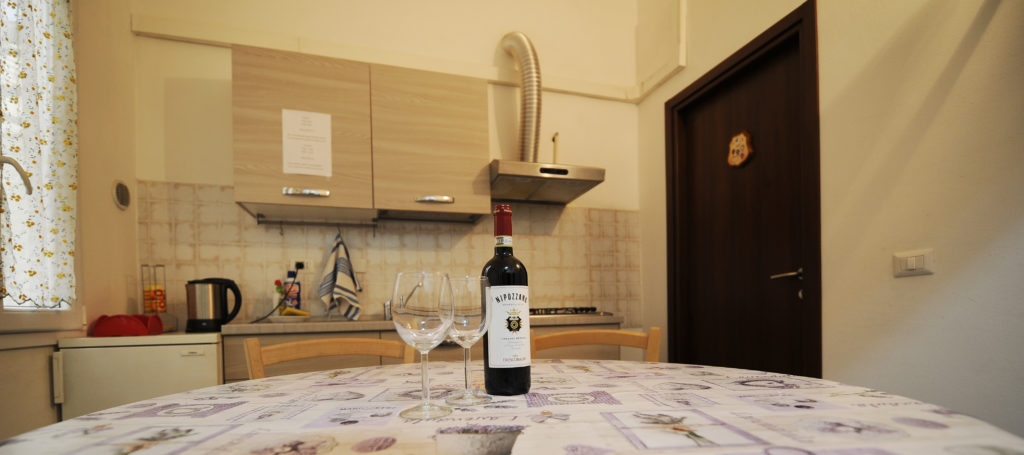 Breakfast:

Included in the price there is a breakfast coupon to use in the bar next the B&B for (per person):
2 sweets
1 coffe' or cappuccino or thè.

In-room amenities:
All rooms are equipped with air conditioning, WiFi Internet, TV and hair dryer.
We provided towels and bed linen.
Cleaning and change of towels are every 3 days.
The change of  linen is once a week.
All our rooms are non-smoking.
Pets:
On request free of charge only small pets under conditions which are not left alone in the room and it is necessary to reach the endowment care of the animal.
Garage:
At the cost of 18€ per day there is the possibility of a covered garage near the structure.  Is only intended for check-in, check-out.
The car is parked at the check-in at is taken back at check-out, is not possible to move it during the day.
Street parking:
Parking in the special blue lines on the street costs 2 euros per hour.
Keys and check-out:
Customers receive their keys and are totally independent.
Check-in is from 10.30 a.m. to 12:45 p.m. and check-out is at 10.00 a.m.
Key to the symbols in the descriptive pages of rooms:

 A.C.

  Internet  WiFi

 TV

 Hair dryer

  Towels and bed linen.

 Per allowed
We recommend to read the information on BOOKING page InfoB&B.